Throat Coat® Organic Herbal Tea
Box of 16 Individually Wrapped Teabags
Supports Throat Health

Herbal Power 
Helps you sing it loud, say it proud, stand up and be heard.
NPN 00659797
Recommended use: Temporary relief of minor throat irritations.
Recommended dose: Adults: Drink 1 cup 4-6 times daily.
Directions for use: Pour 240 mL freshly boiled water over 1 tea bag in a cup. Cover cup and steep 10-15 minutes. Gently squeeze the tea bag to release the remaining extract.

Reason to Love 
Slippery elm or Ulmus rubra (Latin for "red elm," so called for its lovely reddish bark) is a beautiful, native North American elm tree. It's the inner bark of this tree that is actually called "slippery elm" due to its, yes, slippery, smooth, and slimy-in-a-good-way properties. Combined with licorice and marshmallow root, we think this tea blend is like taking your voice to the spa—because we all need a little comfort sometimes so we can get back to being our best.

Taste 
Sweet and earthy, silky, with a distinct licorice taste.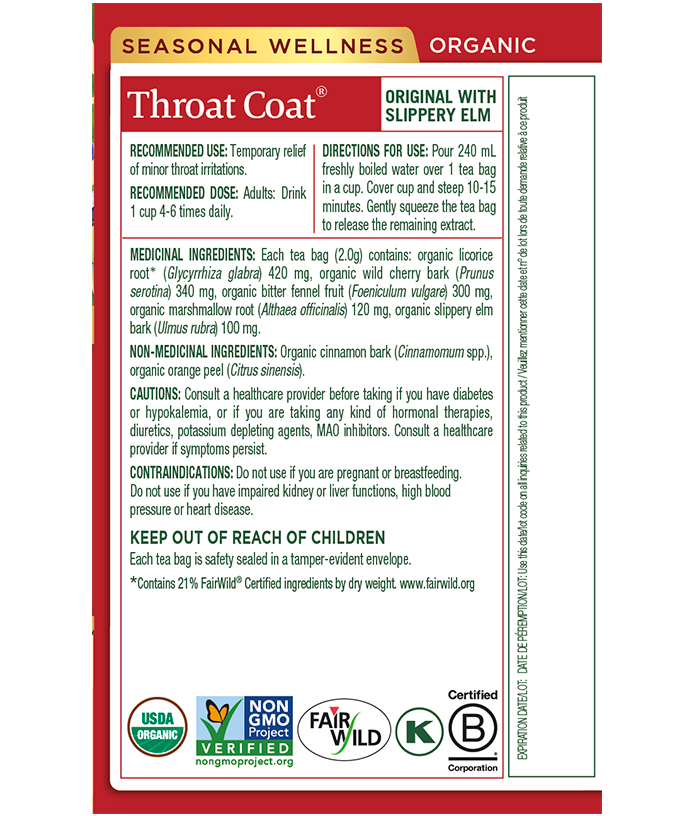 Formerly called Throat Formula.
Traditional Medicinals ® Wellness Teas