GORP Bars Peanut Butter & Raspberry - SINGLE or BOX of 12 BARS
GORP Energy Bars are CERTIFIED GLUTEN FREE!
A new take on an old favourite (PB & J), except this time we've packed in the power of nutritional power houses like flax, hemp and oats and let's not forget the WHOLE raspberries. No fake flavours or colours here. Only the real deal.
BENEFITS:

9 grams of plant based protein per bar!

Free of Trans Fatty Acids

Source of Omega 3

Cholesterol Free

Low in Sodium

Very High Source of Fiber

Source of Thiamin, Niacin, Biotin, Folate, and Vitamin E

Source of Copper

Good Source of Iron, Phosphorus, and Zinc

Excellent source of Magnesium and Manganese
Our GORP Bars can be safely stored in your pantry but last longer in the fridge!  GORP Bars also freeze well, great way to stock up!
INGREDIENTS: sugars (honey, brown rice syrup), gluten-free oats, peanut butter, almonds, dried raspberries (raspberries, cane sugar), dried coconut, peanut flour, brown rice protein powder, crisp brown rice, sunflower seeds, dried blueberries (blueberries, sugar, sunflower oil), ground flaxseeds, dried apples, pumpkin seeds, cinnamon.

ALLERGY AND INTOLERANCE INFORMATION:
Tree nuts and peanuts.
Certified Gluten Free. Kosher Certified (MK)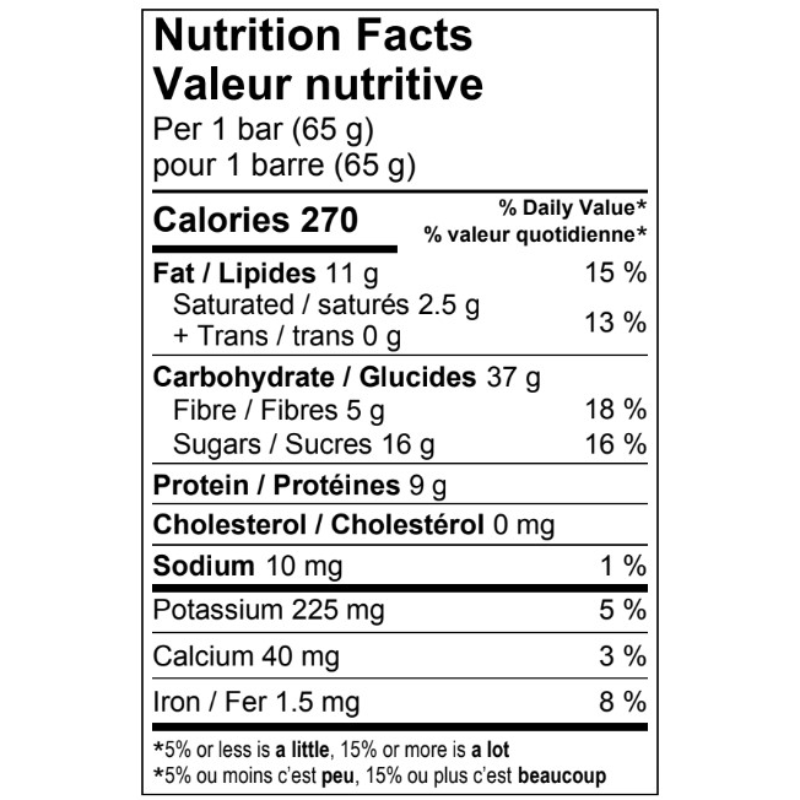 MADE IN CANADA